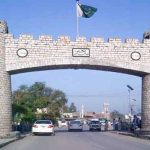 PESHAWAR: The Khyber Pakhtunkhwa government has approved a grant of Rs150 million for preserving the culture of Kalash tribe in Chitral.
Provincial Tourism Minister Muhammad Atif Khan chaired a meeting on preserving culture of Kalash tribe which was attended by Member Provincial Assembly from Kalash tribe Wazir Zada, Additional Secretary Tourism Department Babar Khan, Managing Director Mushtaq Ahmed and director Archaeology Department.
The meeting decided to set up a committee headed by the director of Archaeology Department for preserving culture of Kalash tribe and promote tourism in Chitral. The committee will have representatives from Friends of Kalash, UNESCO and local population. The committee will present recommendation on its mandated task.
The meeting also decided that new construction work in Rambor, Bamboret and Barer valleys of Kalash tribe will not be allowed without approval from the Archaeology Department.
Atif Khan said a playground will also be established in Kalash Valley to promote local sports. He said the Tourism Department will provide all facilities for the ongoing Chaomash Festival in Kalash.