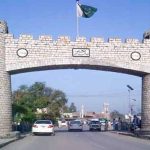 KARACHI: Sindh police on Friday has sought help from Islamabad and Khyber Pakhtunkhwa police for the arrest of former SSP Malir Rao Anwar in Naqeebullah Mehsud murder case.
A letter has been sent to IG Islamabad and IG KP police in this regard.
It has also been decided that the investigation of Naqeebullah murder case will be handed over to Additional IG Crime Branch Aftab Pathan while SSP Malir Adeel Chandio, SSP Investigation Zulfiqar Mehar and SSP Investigation Malir Abid Qaimkhani will also be a part of the probe.
A team of Sindh police is likely to depart for Islamabad in next 24 hours to arrest Anwar.
On the other hand, at least seven suspects have been arrested during search for Anwar's police party. They are under investigation regarding Rao Anwar's whereabouts and his illegal operations.
Police also raided the residence of former SHO Sohrab Goth Shoaib alias shooter who was suspended for extrajudicial killing by the court however; he continued to work on his post.
Meanwhile, Sindh IG AD Khawaja met Mehsud tribal leaders and assured them of justice in the case. He said that the respect of law is also compulsory for police.
Investigation report against Rao Anwar has also been prepared and will be submitted to Sindh IG today.