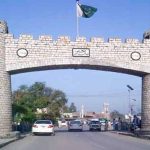 ISLAMABAD: Superintendent of police (SP) Tahir Khan of the Khyber Pakhtunkhwa Police went missing from the federal capital on Friday.
SP Khan arrived in Islamabad with his driver from Peshawar on Friday afternoon. He was staying at his residence located in Sector F-10 and went for a walk in the evening at approximately 8PM.
The police officer left his mobile phone and pistol at the residence and never returned home.
The Islamabad Police has formed a special team to search for Tahir Khan. According to police sources, all aspects which may have led to Khan's going missing are being investigated.