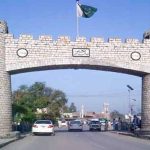 MIRANSHAH: Khyber Pakhtunkhwa Inspector General of Police (IGP) Sanaullah Abbasi said on Saturday that lands have been purchased for establishment of police stations in merged tribal districts.
The police chief said funds will also be provided for transport and other facilities to policemen. He said this during his maiden visit to North Waziristan tribal district.
Speaking on the occasion, Sanaullah Abbasi said there is no difference between Peshawar Police and police of merged districts. He said police law is enforced in tribal districts and the force is working without any political pressure. He assured that Khassadar personnel who have joined the policemen of merged districts will get equal facilities and incentives like policemen of other districts of KP.
Also read: Sanaullah Abbasi takes charge as IG Khyber Pakhtunkhwa
The police chief visited the Pak-Afghan border in Ghulam Khan where he was given a detailed briefing about the security situation. A Police Darbar was also arranged by the district police at the Governor Cottage in Miranshah on the occasion of visit of Sanaullah Abbasi. A smartly turned out contingent of police presented guard of honour to the IGP. Deputy Inspector General (DIG) Bannu Abdul Ghafoor Afridi, Commissioner Bannu Adil Siddique, District Police Officer (DPO) Shafiullah Gandapur, Deputy Commissioner Sahibzada Najeebullah Khan and Assistant Deputy Commissioner Manzoor Afridi were also present on the occasion.
DPO Shafiullah Gandapur informed the IGP about the problems faced by police personnel in tribal districts. The police chief assured full cooperation in resolution of problems faced by policemen.
According to tribal traditions, the IGP was also presented a turban as a gift on the occasion.
Last month, Sanaullah Abbasi conducted a visit to Lower Mohmand tribal district where he stated that the KP Police will play its role in swift development and bringing complete peace and law and order to the merged tribal districts. The IGP said the security personnel in tribal districts offered countless sacrifices for peace and security in the region during a difficult time. He said the patriotism and dedication of security personal in tribal districts is commendable.
The IGP made it clear that the Khassadars and Levies have become part of KP Police from the first day of merger of erstwhile Fata with KP. He assured that the Levies and Khassadars will get all the facilities and privileges already enjoyed by the KP Police.