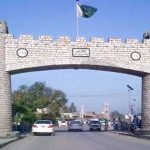 LAHORE: Jamaat-e-Islami (JI) Ameer Siraj-ul-Haq Sunday said Indian spy Kulbhushan Jadhav will be hanged whether the government so wishes or not.
Talking to media on the occasion of Jamiat Intra-Youth Elections here, he said, "We do not accept the so-called world courts. We are not the servants of international courts."
The JI chief said the government is not keeping its pledge to make Fata a part to Khyber Pakhtunkhwa and demanded the people of Fata be allowed to decide in accordance with their own free will.