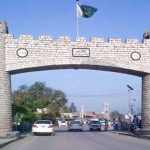 LAHORE: Lahore High Court (LHC) has extended protective bail of the Chairman of the Pakistan Tehreek-e-Insaf, Imran Khan, in five cases till March 27.
The court directed the PTI chief to approach relevant court before March 27. Imran Khan Friday appeared before Lahore High Court (LHC) for his protective bail in five cases registered in Islamabad.
A two-member bench comprising Justice Tariq Saleem Sheikh and Justice Anwar Hussain heard Imran Khan's request for protective bail. The Registrar office had raised objections over Imran Khan's application.
Imran Khan had requested for protective bail in cases filed against him in Islamabad. The registrar's office objected stating that Imran Khan had already obtained protective bail in those cases.
Imran Khan's lawyer argued that they want to appear before the court and that they have no ill intentions. Imran's security is at risk.
Imran Khan told the he wanted to appear in Islamabad court on March 18. However, he could not appear before the court due to violence outside the court. He added that there are 40 cases of terrorism against him.
The government lawyer objected that Imran Khan should go to the Islamabad court instead of Lahore High Court. The court dismissed the registrar's office's objection and postponed the hearing for 30 minutes.
When the hearing was resumed after break, the court directed Imran Khan to submit affidavit. The lawyers of Imran Khan submitted the affidavit regarding five cases registered in Islamabad.
The court extended the protective bail of Imran Khan till March 27, directing him to approach the relevant court. The court warned Imran Khan of dire legal consequences if his affidavit regarding bail applications in Islamabad courts proved wrong.