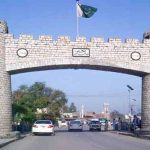 SEHWAN: At least 76 people were martyred and over 250 others were wounded on Thursday when a suicide bomber blew himself up inside the crowded shrine of Hazrat Lal Shahbaz Qalandar in Sehwan Sharif.
The Islamic State of Iraq and the Levant (ISIL, also known as ISIS) group claimed the responsibility for the attack on their Aamaq news agency, saying a suicide bomber had targeted devotees at the shrine in Sindh.
Hundreds of devotees were present inside the premises of the vast mausoleum of the saint at the time of blast. Thousands gather at the shrine every Thursday to pray and participate in the Sufi tradition of "dhamaal", a form of devotional percussion and dance.
Television footage from the famous Lal Shahbaz Qalandar shrine in the town of Sehwan Sharif showed army and paramilitary medical teams reaching the site and injured people being taken to nearby hospitals in ambulances and a military helicopter.
Deputy Inspector General of Police Hyderabad Range Khadim Hussain Rind while talking to media outside Taluka Hospital Sehwan said that the condition of 50 injured persons was critical. He also informed that a team of around 50 doctors had reached from Dadu along with sufficient quantity of medicines and started providing first aid to the injured.
The DIG informed that 30 critically injured persons were being shifted to Nawabshah where arrangements were made to provide required medical treatment. The armed forces helicopters also reached Sehwan to airlift the critically injured persons to Karachi, he added.
Army chief Gen Qamar Javed Bajwa vowed to avenge "every drop of blood" spilled by terrorists in Pakistan. "Recent terrorist acts are being executed on directions from hostile powers and from sanctuaries in Afghanistan. We shall defend and respond. "Each drop of the nation s blood shall be revenged, and revenged immediately. No more restraint for anyone," the Army Chief was quoted as saying by Inter Services Public Relations (ISPR) Director Major General Asif Ghafoor on Twitter.
Shortly after the blast, the army announced it was closing the border with Afghanistan with immediate effect for security reasons. Insurgents operate on either side of the neighbors long and porous frontier.
Governor of Sindh, Muhammad Zubair has said that the state is fighting war on terror for 15 years and has garnered numerous successes despite setbacks. The governor called for unity of the nation against banned organisations.
Spokesperson for the Government of Sindh, Nasir Shah has condemned the attack and expressed grief over loss of precious lives. While answering a question over lack of security, he said that the provincial government is making all possible efforts to counter terrorism.
This is the seventh terror attack in five days in different cities of Pakistan including capitals of Punjab and Balochistan and Khyber Pakhtunkhwa. On Monday, a suicide attacker claimed 14 lives outside Punjab Assembly in Lahore on Shahrah-e-Quaid-e-Azam. The martyred included Chief Traffic Officer, Syed Mobin Ahmad and Senior Superintendent of Police.
A terrorist wearing a suicide vest rammed a stolen motorcycle into a van carrying judicial officers yesterday in Hayatabad area of Peshawar killing the driver while injuring the officials.
Last year in November, a similar kind of bomb blast was reported at Shah Noorani shrine in Hub area of Balochistan that left over 52 killed and dozens of others wounded.