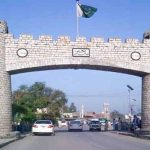 KARACHI: Defence counsel in the Naqeebullah murder case has alleged his associate lawyer who is pursuing justice for the slain youth is receiving threats to drop the case.
Lawyer Faisal Siddiqui has written to IG Sindh Amjad Javed Saleemi and SSP Malir Munir Ahmed Shaikh informing of threats to Saif-ur-Rehman, the leader of the Grand Jirga constituted to pursue Naqeebullah murder case.
In his letter, the lawyer has claimed that Rao Anwar's accomplices are threatening Rehman to stop pursuing the case and that Rehman has received phone calls claiming that Anwar – the prime accused in the case – is innocent.
The letter further requested the police chiefs to provide security to Rehman and investigate the threats.
Naqeebullah Mehsud, a shopkeeper and aspiring model from South Waziristan, was killed along with three others in an alleged fake encounter by Anwar and his subordinates earlier this year.