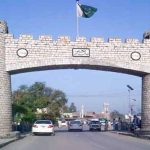 SWABI: Coalition partner of the PTI in Khyber Pakhtunkhwa, Awami Jamhori Ittehad Party leader and senior minister Shahram Khan Tarakai has alleged massive rigging during LB polls and warned to go for protest if ECP failed to provide justice.
Talking to media, he accused the district administration and returning officers of rigging during recent LB polls. He alleged that the police was supporting the ANP candidates in Swabi. He said that ballot papers and election commission stamps were recovered from the fields.
He warned that if the ECP failed to provide justice, then they would start protest against the rigging.