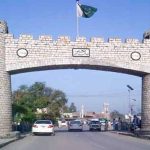 LAHORE: Lahore High Court (LHC) on Monday has approved protective bail of former ministers Khawaja Saad Rafique and Khawaja Salman Rafique in Paragon Housing Society scandal.
During the hearing, the plaintiff adopted the stance that all the required data has already been submitted in the National Accountability Bureau (NAB). However, it is feared that the Khawaja brothers would be arrested by the top accountability watchdog, he continued.
Meanwhile, the court barred NAB from detaining the ex-ministers till October 24 and issued notices in this regard.
Earlier, Islamabad High Court (IHC) had rejected an application requesting for a protective bail for Khawaja Saad Rafique and Salman Rafique.
In November 2017, NAB had launched its investigation into a mega land scam involving then Railways minister Khawaja Saad Rafique's Paragon Housing Society in Lahore and Punjab Land Development Company (PLDC).