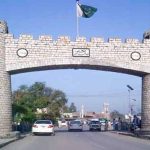 LAHORE: The Lahore High Court (LHC) on Thursday declared decision of an appellate tribunal disqualifying Shahid Khaqan Abbasi for life as null and void.
During the proceedings, the court accepted appeal filed by former premier Abbasi and had summoned the concerned Returning Officer (RO) along with record of the case.
An appellate tribunal had rejected nomination papers of Abbasi from National Assembly constituency in Murree NA-57.
The tribunal on grounds of concealing facts had also disqualified Abbasi for life, who will now be contesting the upcoming general elections from Murree.