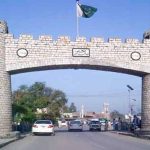 LAHROE: The Lahore High Court (LHC) on Friday barred the Election Commission of Pakistan (ECP) from issuing success notification of Pakistan Tehreek-e-Insaf (PTI) candidate Farrukh Habib on NA-108 constituency Faisalabad.
Pakistan Muslim League Nawaz (PML-N) candidate Abid Sher Ali submitted an appeal in LHC seeking vote recount in the constituency once again.
Abid Sher Ali has also accused Farrukh Habib of rigging the elections.
Taking up the appeal, LHC issued notice to ECP and other relative parties seeking reply on August 7.
The LHC also barred the ECP from issuing victory notification of Farrukh Habib.