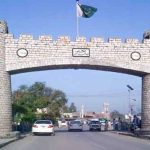 LAHORE: The fresh increase in the petroleum products prices by the government has been challenged in the Lahore High Court (LHC) on Saturday.
The petition, filed by Advocate Munir Ahmed, states that the federal government increased the prices of petroleum products without the approval of the federal cabinet. The petitioner pleaded with the court to issue a stay order on the hike.
Earlier on June 26, the government decided to revise the existing prices of petroleum products in view of the rising oil prices trend in the global market.
The price of petrol was increased by Rs25.58 to Rs100.10 per liter, while the price of High-Speed Diesel (HSD) increased by Rs21.13 to Rs101.46 per liter.
On the other hand, the price of Light Diesel Oil (LDO) increased by Rs17.84 to Rs55.98 per liter and the price of Superior Kerosene Oil (SKO), has been increased by Rs23.50 to Rs59.06 per liter.