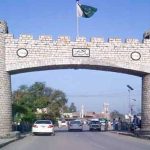 LAHORE: Lahore High Court (LHC) on Friday susppended Governor's de-notification and restored Chaudhry Parvez Elahi as chief minister of Punjab.
Parvez Elahi assures court
The lawyer representing Parvez Elahi in the case assured the bench that his client will not dissolve Punjab Assembly if the court repeals the notification of the Punjab Governor resulting in his dismissal from office after he refused to take the vote of confidence from the assembly on his order.
Barrister Ali Zafar submitted the affidavit on Elahi's behalf.
The governor's lawyer that they were ready to withdraw the notification but asked the court to bind Elahi to take the vote of confidence.
The court inquired if Elahi was ready to take the vote of confidence within three days.
Punjab Assembly passes resolution against governor
Earlier today, Punjab Assembly passed a resolution amid ruckus between treasury and opposition benches in the first assembly session after the de-notification of Punjab Chief Minister Parvez Elahi.
The MPAs did not listen to the Punjab Assembly Speaker Sibtain Khan's directions to maintain order in the house.