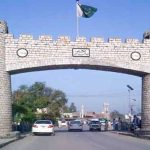 LAHORE: Lahore High Court (LHC) on Tuesday has stopped the construction of cool power plant till further orders.
During the hearing, plaintiff's counsel Azhar Siddiq told the court that government is planning to install cool power plant near BRB canal. For this purpose, they have also started acquiring the nearby land. He said that no authority can plant any power house that can affect the citizens, therefore, the court should annul the plan and halt its construction.
Subsequently, the court has approved the petition for further proceedings and ordered to halt its construction.