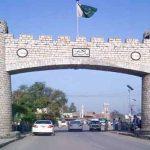 ISLAMABAD: Minister for Water and Power Khawaja Muhammad Asif has said that all out efforts are being made to complete the under construction power projects to meet the growing demand in the country.
In an interview, he said load shedding issue will be resolved soon.
The Minister said that demand of electricity is increasing due to high temperature and there is a shortfall of 5200 megawatt.
To a question he said that promises made by the government regarding energy will be fulfilled.
He said there was no load shedding in the industrial sector.