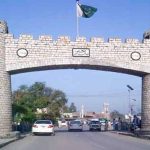 KARACHI: Two London-based leaders of the Muttahida Qaumi Movement (MQM) on Thursday said they would not accept any move aimed at minus-one formula or any changes in the party, amid media reports that the party's lawmakers intend to table a resolution in the National Assembly with regard to Altaf Hussain's bellicose rhetoric on August 22.
The so-called MQM-Pakistan has been striving to shed its anti-state image by staying clear of London based leaders since Altaf Hussain's speech against Pakistan.
MQM leader Wasay Jalil said on Twitter: "We will not accept Minus one formula on Altaf Hussain. Altaf Hussain is MQM & MQM is Altaf Hussain. We will not accept any resolution in NA".
Mustafa Azizabad, another top leader of the party, said on Twitter: "We will never accept the changes in basics of our beloved MQM. No MQM without Altaf Hussain.