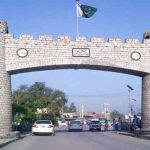 KARACHI: A commander of Lyari gang, Irfan alias Billa , was killed in an alleged encounter with police on late Friday.
The alleged encounter took place in Baghdadi area of Lyari, in which Irfan, gang war commander of Ghufar Zakri group, was killed. The police said that the criminal was wanted in several heinous crimes including attempted murder. However, two accomplices managed to escape the scene.
The security forces were also carrying out raids in different areas to arrest Rashid, brother of Baba Ladla, who was killed in Balochistan.
The police and Rangers also carried out raids in different areas of the port city and arrested more than 60 suspects. The Rangers arrested as many as 20 suspects in an operation in PIB Colony. The personnel shifted the alleged criminals to undisclosed location for interrogation. In New Karachi area, the police arrested a criminal in injured condition along with an accomplice. The security personnel recovered stolen motorcycles and weapons from their possession.
Separately, two dacoits were apprehended in injured condition in an alleged police encounter near Civil Hospital. Another three culprits were arrested in Nazimabad area. According to the police, key confessions were made during interrogation.
District Korangi Police apprehended at least 40 suspects during operations in Model Colony and Saudabad. Korangi Senior Superintendent of Police (SSP) Naeem Sheikh said that interrogations of the alleged criminals are underway.