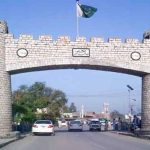 PESHAWAR: The culprit Aimal Khan accused of harassing and filming women in Chitral has been arrested from Mathra area of Peshawar, said District Police Officer (DPO) Chitral.
Deputy Commissioner Chitral had taken notice of the criminal act of Aimal Khan and dispatched a police team including women officers to Peshawar after tracing the culprit.
The women police officers successfully arrested Aimal Khan and shifted him to jail.
A video went viral few days back showing an identified person harassing and filming women in Kalash valley of Chitral.
Meanwhile, reports have surfaced that the incident has occurred two years ago but came to surface few days back.