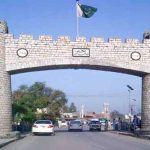 PESHAWAR: A person Wednesday shot dead five family members including his father and brothers before committing suicide in Peshawar.
According to local police, tragic incident occurred in the suburbs of Tahkal area of Peshawar. Police said that 24-year old Abdullah opened indiscriminate firing at the inmates of his home, killing his father, three brothers and an uncle on the spot. Police said that after killing five members of his family, Abdullah shot himself dead.
The police said that the Abdullah was suffering from mental illness. The police said that a minor dispute caused tragic incident.