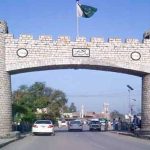 MARDAN: Iqbal Khan, father of Mashal Khan on Wednesday claimed that the Abdul Wali Khan University Mardan (AWKUM) administration was also involved in the murder of his son.
Mashal Khan, a student of Abdul Wali Khan University (AWKU) who was lynched to death by a mob of fellow students on campus on April 13 over alleged blasphemy.
While recording his statement under Section 164-161 of the Pakistan Penal Code (PPC), Iqbal Khan told a judicial magistrate that the AWKU administration killed his son for hiding irregularities of their officials and accused him of committing blasphemy to avoid accountability.
Blaming the varsity administration for creating a fake account on social media under his son's name, he upheld that the Khyber-Pakhtunkhwa Police were also responsible for the lynching.
"Despite the presence of security guards and police personnel at the campus, Mashal was murdered and no one tried to save my son from the enraged mob," he said. "The incident started at 11am and continued for three hours."
Khan said there are visual records of the killing yet the DIG and the DPO failed to do anything substantial to prosecute the suspects.
Blasphemy carries the death penalty in Pakistan. In many cases, an accusation alone is enough to inspire vigilante action against suspects.