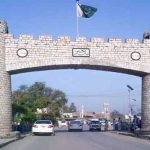 LAHORE: Daughter of former prime minister Nawaz Sharif and Pakistan Muslim League-Nawaz (PML-N) leader Maryam Nawaz has left for London via Doha to meet her ailing mother Kulsoom Nawaz.
Maryam Nawaz took flight number 625 of private airlines from Lahore's Allama Iqbal International Airport.
Sources told that PML-N leader will congratulate her mother Kulsoom Nawaz over victory in NA-120 by-poll and will also inform her about the election campaign that she led in the constituency on her behalf.
It is to be mentioned here that Kulsoom Nawaz is under treatment in London after successful surgery as she was diagnosed with throat cancer.
According to unofficial results, Nawaz Sharif's wife Kulsoom Nawaz secured 61,745 votes and won the seat while Pakistan Tehreek-e-Insaf's (PTI) Dr Yasmeen Rashid bagged 47,099 votes.
Pakistan People's Party candidate Faisal Mir took only 1,414 votes while Jamaat-e-Islami's Ziauddin Ansari got just 592 votes.
The returning officer informed that a total number of 125,129 people exercised their right to vote in the NA-120 by-election out of which, 80,944 were male and 45,916 were female.
It is to be mentioned here that the seat fell vacant due to the disqualification of Muhammad Nawaz Sharif by the Supreme Court (SC) in Panama Papers case.