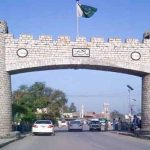 KARACHI: Security agencies have identified the mastermind of the terrorists who attacked the Pakistan Stock Exchange (PSX).
According to media reports, Bashir Zeb, the commander of the banned outfit, is the mastermind of the terrorist attack on PSX. Bashir Zeb became the commander after the slain terrorist Aslam Acho.
Aslam Achho was the mastermind of the attack on the Chinese Consulate. The banned group had attacked the Chinese consulate with funding from the Indian intelligence agency RAW.
Reports stated that evidence of "RAW" funding was found in the attack on the Pakistan Stock Exchange. Terrorist Bashir Zeb is in Kandahar, Afghanistan with his accomplice Allah Nazar.
Federal Interior Minister Ijaz Shah has vowed that those involved in the attack will be brought to justice. An investigation into the matter has been started and the mastermind of the attack will be caught, he added.