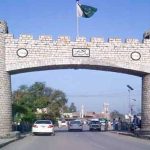 LAHORE: The famous actor widely known for his character "Zakuta Jin" in children's comedy drama "Ainak Wala Jin" has passed away in Lahore on Friday night.
Zakuta Jin, whose real name was Matloob-ur-Rehman and was also known as Munna Lahori died at the age of 68.
His motif "Mujhe Kaam Batao, Main Kya Karoon, Main Kisko Khaon" earned him popularity among the children in particular and elders in general.
The famous actor was suffering from paralysis and was under treatment at the Mayo Hospital, Lahore.
Matloob-ur-Rehman breathed his last on Friday night at the hospital.
His funeral prayers will be held in Lahore today (Saturday).