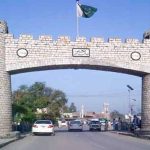 ISLAMABAD: While reacting to the North Waziristan attack that left three people dead and five soldiers injured, Pakistan Peoples Party (PPP) Chairman Bilawal Bhutto Zardari on Sunday warned that matters could take a dangerous route if "our own children are labeled as traitors".
In his statement, PPP Chairperson Bilawal Bhutto Zardari said there should be no violence against peaceful and political people. "I will ascertain the truth but from the very start, I say you may disagree with and discuss their viewpoint.
"Should their misunderstandings not be resolved, everyone has seen what happened in Balochistan during former president Pervez Musharraf's era," Bilawal added.
Progress-oriented politics were on the rise in an area such as the Federally Administered Tribal Area (FATA), the PPP chair underscored, adding that matters could take a dangerous route if "our own children are labelled as traitors".
On the other hand, PML-N Vice-President Maryam Nawaz said the country could not afford internal tensions at the moment.
"Every Pakistani's life is precious and their blood sacred. If there's bloodshed, the truth should be presented to the public," she said. "Love, peace, and understanding are far more powerful than weapons."
The PML-N VP asked: "Have we not already paid tremendously for crushing protests and suppressing voices?"
Praying for the nation, she added: "May God be merciful on Pakistan," which, she said, "cannot afford internal tensions".
Maryam further highlighted that every stakeholder must be sensible in how the situation was dealt with.
"If there are children of Pakistan on both sides, then all state institutions, including political and journalistic factions, must act responsibly," she said.
"Otherwise, Pakistan would once again suffer from irreparable loss," she warned.
Earlier, it was reported that three people were killed and five soldiers injured in a clash between security forces and the Pashtun Tahaffuz Movement's (PTM) protesters in North Waziristan.
In a statement, the Pakistan Army's media wing, the Inter Services Public Relations (ISPR), had said: "A group led by Mohsin Javed and Ali Wazir, had assaulted Kharqamar check post, Boyya, North Waziristan tribal district this morning.
"They wanted to exert pressure for the release of suspected terrorists' facilitator arrested the other day.
"Troops at the check post exercised maximum restraint in the face of provocation and direct firing on the post," it had added.
Later, on the other hand, Director-General of the ISPR, Maj Gen Asif Ghafoor, wrote on Twitter: "Innocent PTM supporters / workers need care.
"Only few are inciting and using them against state institutions for vested agenda. No one will be allowed to undo the gains of decades long national struggle & sacrifices especially of brave Pakistani tribals," the Army spokesperson said.