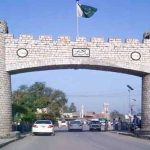 ISLAMABAD: Jamiat Ulema-e-Islam-Fazl (JUI-F) chief Maulana Fazlur Rehman has said that delegations of Afghan Taliban are officially welcomed in Islamabad by the PTI government, therefore, criticizing the presence of a few such flags is baseless and an attempt to malign the Azadi March.
While addressing the Azadi March sit-in in Islamabad here on Saturday, Maulana Fazlur Rehman said that the United States engaged with Afghan Taliban in peace talks with presidential protocol and with the same protocol they were welcomed in Moscow as well. "And you ask us why a boy carried their flag in our rally," he said.
"Where the world has headed to and where you are standing… we will also be right to consider this as an attempt to do negative propaganda against the march," he said and warned the Islamabad administration against creating anarchy.
"They should be careful before using such tactics, otherwise this rally is enough for your entire Islamabad… these people are enough for your whole government… and people have just begin to arrive here and more will arrive tonight and tomorrow and you should be prepared for them also."
Maulan Fazl said the government of Prime Minister Imran Khan has lost moral grounds to rule the country and slammed it for 'hatching controversies' against his "peaceful march".
Not just the Indian but the entire international media is covering the Azadi March, said the firebrand cleric referring to PM Imran's criticism over his protest's coverage on Indian channels.
Fazl also said that they are being wrongly accused over a low turnout of women in the protest demonstration. "We respect women more than you can ever imagine," he remarked, adding that women members of the party are playing their part from home to make this protest a success.