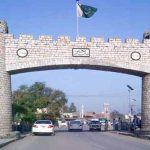 PESHAWAR: Jamiat Ulama-e-Islam-F (JUI-F) Chief Maulana Fazl-ur-Rehman and FATA grand jirga on Friday rejected the FATA reforms committee report for reforms in FATA and demanded tribal people should be given the right to decide its future.
Talking to media after meeting with FATA grand Jirga members, Maulana Fazl demanded that the FATA people should be consulted over future status of FATA people. He said that FATA grand Jirga has asked him to talk to Prime Minister Nawaz Sharif on behalf of FATA people.
Talking about PTI protest, Maulana Fazl said PTI Chief is hell bent creating anarchy by locking down Islamabad. He said nobody would be allowed to derail the democratic system in the country.
Maulana Fazl-ur-Rehman said his party workers would impede all unconstitutional, illegal and unlawful activities against the elected government.