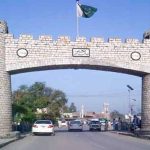 BANNU: Pakistan Tehreek-e-Insaf (PTI) Chairman Imran Khan said on Sunday that Jamiat Ulema-e-Islam-Fazal (JUI-F) chief Maulana Fazl-ur-Rehman is a power seeking missile, which is drawn to power as he is in governments since 2002.
Addressing a public gathering in Bannu, he severely criticized the JUI-F Chief and his associate Akram Khan Durrani, the former chief minister of Khyber Pakhtunkhwa, saying their conditions improved but Bannu deteriorated.
He also asked Fazl-ur-Rehman as to what he has done for Kashmir being Chairman of the Kashmir Committee and added that the JUI-F Chief could not be a religious scholar after selling himself out for diesel permit.
He asked the people to ask Akram Khan Durrani as to what he has done in Bannu when the latter comes for asking vote adding that people like Akram Khan Durrani have held the country hostage.
Imran lamented that the condition of the country has worsened as the US dollar has risen to Rs.125 against 60 during the past ten years.
He added that no one but the PTI government launched electricity generating projects in Khyber Pakhtunkhwa.
Imran Khan also asked the participants to compare Khyber Pakhtunkhwa police with that of Punjab saying that number of doctors has risen to 9000 from 3000 in the province (his party ruled for the past five years).
He said that system of education and health in Khyber Pakhtunkhwa is better than that of the entire Pakistan.