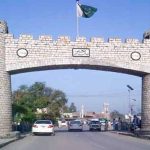 KKARACHI: The political parties in Muttahida Majlis-e-Amal has nominated the JUI Chief of his own faction Maulana Fazl-ur-Rehman as the head of the religious parties alliance.
The announcement was made in a press conference held in the metropolis and attended by top leadership of groups part of the MMA.
Speaking to media after the nomination, Fazl ur Rehman said that the parties wouldfought next elections under the banner and symbol of MMA.
He said that the organisational setup of the MMA would now be setup at the country level to make it more organised before the upcoming polls.
He said that there was no need for the breakup of the MMA earlier and it would now work with more enthusiasm and yield more better results in the upcoming polls.