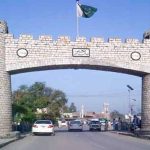 D I KHAN: President Muttahida Majlis-e-Amal and Central Ameer Jamiat-e-Ulemai Islam (F), Moulana Fazal-ur-Rehman Saturday said preaching of Mufti Mehmood to serve humanity in its individual and collective capacity would be carried forward.
Addressing public gatherings in Larorangpur rural area of PK-95, he said that we have been instructed by Mufti Mehmood to serve people without any discrimination and his mission and teachings would be carried out.
JUI Chief said that he is proud of voters in his constituency who elected religious parties to represent them.
Expressing gratitude to voters of his constituency, he said their support is appreciable and worth respecting. He urged voters to judiciously exercise their right of franchise on July 25 and change their destiny by wisely electing their leaders.
Fazal-ur-Rehman said that he would not desist from his resolve to serve people adding voice has been raised for their rights at every available forum including parliament. He said that record development work and welfare oriented schemes were being accomplished by JUIF in the area.
Verdict against Muhammad Nawaz Sharif is a sequence of the decision regarding his disqualification in past, he said.
Criticizing PTI, he said that everyone has right to express difference of opinion but opponents should not be targeted by slanderous remarks adding that how a person who till now was busy in politics of tirade has aspiring to become prime minister.
Former MPA, Ehtisham Akbar Khan, Moulana Kifayat Ullah and Samee Ullah of JI and other local office bearers also spoke on the occasion.