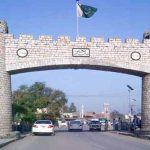 ISLAMABAD: Jamiat Ulema-e-Islam-Fazl (JUI-F) chief Moulana Fazlur Rehman once again opposed merger of Federally Administered Tribal Areas (FATA) with Khyber Pakhtunkhwa and termed it an international agenda.
He was speaking at National Assembly on Wednesday. He said a powerful lobby has been forcing Parliament for FATA merger with Khyber Pakhtunkhwa. He claimed that the National Assembly did not have mandate to change the status of any area of the country.
The JUI-F chief said that the country's current situation was not suitable for changing the constitutional status of FATA.
"The situation would spiral out of control in case of any decision against the will of the people of FATA," Fazlur Rehman said. He said that the will of the people of FATA should be taken into consideration before taking any decision regarding the fate of FATA.
He complained that despite being ally of the ruling party, the JUI-F was being pushed to the wall, while the opposition parties demand for FATA-KP merger was being accepted.
The PPP, PTI and other opposition parties supported the merger and demanded of the government to present the bill in the national assembly.