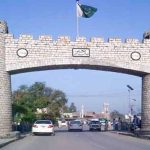 RAWALPINDI: A first investigation report (FIR) of Jamiat Ulema Islam-Sami (JUI-S) Maulana Samiul Haq's assassination was registered on Saturday.
The FIR was filed by the religious scholar's son, Maulana Hamidul Haq, against unknown persons in the Airport Police Station.

As per the FIR, Maulana Samiul Haq was attacked at 6:30pm and was stabbed 12 times in his stomach, chest, forehead and ear.
Maulana Hamidul Haq further said that they do not wish to get the JUI-S chief's post-mortem conducted.
The senior religious scholar and former senator was assassinated at his residence in Rawalpindi on Friday.
Samiul Haq's funeral slated for 3 PM after body moved to hometown Akora Khattak
Maulana Hamidul Haq had said his father "was resting in his room after Asr [prayers] when his driver-cum-guard went out for 15 minutes" and returned to find Maulana Samiul Haq dead.
The body of the slain JUI-S chief has been transported to his native town Akora Khattak and he will be laid to rest today.
His funeral prayers will be held at Garrison Ground in Akora Khattak at 3pm.