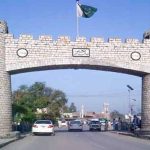 ISLAMABAD: The Disciplinary Committee of Jamiat Ulema-e-Islam-Fazl (JUI-F) has expelled four members of the party, over violation of party discipline, Khyber News reported on Friday.
Sources said that basic membership of the JUI-F leaders namely Maulana Muhammad Khan Sherani, Hafiz Hussain Ahmed, Maulana Gul Naseeb Khan and Shujaul Mulk has been ended. The decision was unanimously taken by the committee members Agha Ayub Shah, Maulana Abdul Wasay and Maulana Abdul Hakeem. Notification in this regard will be issued soon, the sources added.
Last week, former Jamiat Ulema-e-Islam-Fazl (JUI-F) ameer Khyber Pakhtunkhwa Maulana Gul Naseeb had criticised the policies of Maulana Fazlur Rehman.
Earlier, Maulana Sherani had criticised JUI-F chief Fazlur Rehman, asking how Maulana Fazlur Rehman could call PM Imran Khan a "selected" leader when he, himself, was "selected".