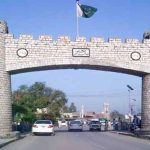 ISLAMABAD: A medical board comprising of PIMS doctors arrived at Adiala Jail on Monday to give former prime minister Nawaz Sharif a check up. They brought a mobile laboratory to examine him for kidney-related pain.
Nawaz is unwell and suffering from kidney-related pain, said a handout issued by the Adiala Jail head. The interior ministry ordered the formation of a medical board to examine the three-time premier.
The medical board should present its report as soon as possible, said jail officials. He might be taken to a hospital after the check-up.
The four-member board, which comprises a cardiologist, gastroenterologist and specialist, met Nawaz at the jail's hospital.
Nawaz suffers from cardiac issues as well.
An anti-corruption court has sentenced the family in one of the three references – Avenfield. The former PM was awarded 10 years in jail and his daughter, Maryam, was awarded seven. Maryam's husband, Capt (retd) Safdar was also handed a one-year sentence in the case. All three are currently in jail. They have appealed the decision and the Islamabad High Court will hear the appeals in the last week in July.