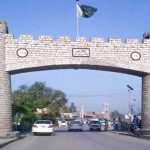 ISLAMABAD: Corps Commander Lahore Lieutenant General Amir Riaz on Thursday visited Jhelum and inspected military exercise held at Tilla Jogian, said a statement of Inter-Services Public Relations (ISPR).
According to the statement issued earlier today, Lt General Riaz directed troops to further enhance their operational exercises.
The exercises are repeated every winter under collective training.
Earlier this week, Chief of Army Staff General Qamar Javed Bajwa visited Pakistan Air Force (PAF) Mushaf airbase and witnessed the ongoing multinational exercise at the recently established Air Power Centre of Excellence (ACE).