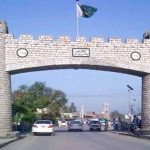 KARACHI: Rabita Committee of Muttahida Qaumi Movement-Pakistan (MQM-P) has turned the course of history by removing its convener Dr. Farooq Sattar from his post.
A member of the Rabita Committee, Kanwar Naveed while addressing media here said that several allegations had been leveled against Farooq Sattar.
He clarified that Sattar was no more convener of MQM-P saying he altered the constitution of party with taking party members on-board.
Kanwar Naveed said that Sattar made himself head of the party and added that his entire focus was on forming an NGO.
Farooq Sattar have hurt the sentiments of Rabita Committee members, said Kanwar Naveed and added that all members of Rabita Committee voiced objections over the incorporation of Kamran Tessori in the Committee.
He maintained that Farooq Sattar had authorized himself to chose members of the Committee adding that Sattar always supported Tessori whenever the Committee criticized him.
Kanwar Naveed said that Farooq Sattar could be reappointed as party convener if he changed his behavior.