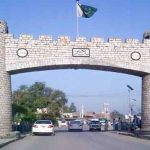 BANNU: President Muttahida Majlis-e-Amal (MMA), Maulana Fazl-ur-Rehman has claimed that the candidates of religious alliance were all set to win general election across the country with thumping majority.
Addressing a public meeting here at Tajori in Bannu, he said MMA was in electoral battle with the forces wanting to bring Western culture in the country.
Maulana claimed that the alliance would form government in KP as well as in the Center.
The country was in the grip of vested forces for the last 70 years he said adding that the MMA would devolve the powers to the masses if voted to power in the election and make the people master of their own destiny.
People have the power of vote to decide the future of nation in the election, he said.
He expressed his confidence that the electorates would elect honest and clean people in the polls.
"Those days are gone when battles were fought through swords and now the time is to fight the battle through ballot papers and we will give crushing defeat to infidel forces through in a democratic manner", he said.