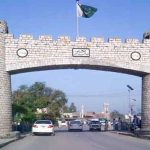 PESHAWAR: A 4.4-magnitude earthquake has been felt in Swat and its adjoining areas, while no causalities and financial loss have been reported so far.
According to the National Seismic Monitoring Centre (NSMC), the magnitude of the quake was recorded at 4.4 on the Richter scale, with a depth of 30 kilometers.
People hurried out of their houses and other buildings in a terrifying state and recited religious verses.
On Jan 12, A powerful 4.7 magnitude earthquake struck Pakistan's Skardu and Gilgit-Baltistan as per initial reports available with the media.
Tremors were felt across the northern region with the depth of 15 kilometres and had an epicentre 58km east of Chilas, according to the centre. Tremors were also felt in Swat, Upper Dir, Muzaffarabad, Neelum Valley, and other areas.
According to the NSMC, the magnitude of the quake was recorded at 4.7 on the Richter scale.
This was a second quake to hit northern areas of the country in less than a week, after 5.6 magnitude earthquake jolted parts of Khyber Pakhtunkhwa, Punjab and Gilgit in the same week.
For more latest news visit Khyber News website.