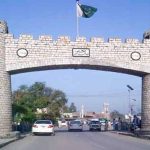 SWAT: An earthquake of 4.3 magnitude jolted Malakand, Swat and surrounding areas of Khyber Pakhtunkhwa here on Monday.
The earthquake jolts caused a stampede and residents panicked and rushed to came out of their homes.
Other parts, including Abbotabad and Mansehra, also reported tremors.
According to sources, the intensity of the earthquake was recorded 4.3 on the Richter scale and was at a depth of 179km.
The epicentre of the quake was in the Hindu Kush mountain range in Afghanistan, close to the Pakistani and Tajik borders.