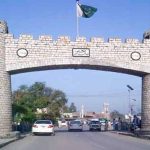 MULTAN: Foreign Minister Shah Mehmood Qureshi says the Indian Supreme Court's decision in Babri Masjid case does not match the basic international rules regulations and ethics.
Addressing a rally in connection with Jashen-e-Eid Milad-ul-Nabi (SWAS) in Multan on Sunday, he said the steps being taken by Modi regime are making the life of minorities, especially the Muslims, more miserable.
The Foreign Minister said demolishing of Babri Masjid at Ayodhya was a proof of the misbehavior with minorities by the extremist Hindus.