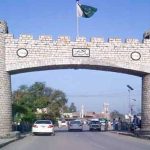 ABBOTTABAD: Pakistan Muslim League-Nawaz (PML-N) on Saturday awarded ticket for NA-16 Abbottabad II to Malik Mohabat
Awan after withdrawal of ticket by Sardar Mehtab.
This was stated by PML-N leader and former Deputy Speaker NA Murtaza Javed Abbassi while addressing a press conference. He said that it has also been decided to keep PK-36 Abbottabad open from where the cousin of Sardar Mehtab had surrendered the PML-N ticket.
Murtaza Abbassi maintained that when party refused former governor KPK Sardar Mehtab Ahmed Khan for the ticket of NA-15 Abbottabad I then
he withdrew the tickets for his son Sardar Sharyar NA-16 Abbottabad and his cousin Sardar Fareed PK-36. Now parliamentary board of PML-N has granted ticket of NA-16 Abbottabad II to Malik Mohabat Awan.