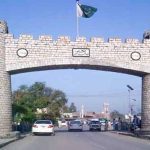 Nine monkeys were rescued from a shrine by the Wildlife Department in Dera Ismail Khan district. Talking to media, an official of the Wildlife Department, DI Khan said that they had been informed about a superstition in which people bring monkeys to a local shrine with the belief that their wishes will be granted this way and their prayers will be answered.
"They were several times warned that this practice could not be tolerated as it was illegal as per the Wildlife Protection Act but the practice was not abandoned. So, on Monday a team of Wildlife officials raided the shrine and seized all the monkeys kept there," he said.
In the shrine of Shah Hussain Shirazi Baba in the Parova area of DI Khan this practice was going on for some time and the caretakers were encouraging it most probably to attract more and more people to the shrine to make money out of it, another official said.
"Despite repeated warnings these people paid no heed and if they did it in the future too then further action will be taken against them," he said, adding that an FIR has already been registered against the administration under Wildlife Protection Act 2015.