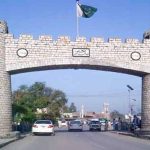 LAHORE: Pakistan received a major blow on Thursday when all-rounder Imad Wasim was ruled out of the squad for the England ODIs starting November 11 in Abu Dhabi.
The 26-year-old from Islamabad was representing his home region against United Bank Limited (UBL) in a Quaid-e-Azam trophy match and fractured his finger in an attempt to field the ball, according to medical reports.
The left-hander will not bat for Islamabad on the third day of the on-going first-class fixture at the Diamond Cricket Club ground in the capital.
The Swansea-born cricketer has represented the Pakistan in five ODIs and T20Is each and has proved his mettle as a match-winning all-rounder through his recent performances against Sri Lanka and Zimbabwe.
Pakistan will play five ODIs against England under Azhar Ali's captaincy and the selection committee is already in a fix to determine the final composition of the limited overs squad over the inclusion of Younis Khan. Imad's injury is likely to cause a few more headaches for Haroon Rashid and company.