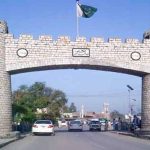 KARACHI: Muttahida Qaumi Movement-Pakistan (MQM-P) Saturday accepted Farooq Sattar's resignation from its Rabita Committee besides issuing him a notice.
The party issued notice to Sattar for violating its discipline and announcing a 22-member committee.
The decision was made at a party meeting held at Bahadurabad office of the MQM-P.
Kunwar Naveed Jamil, deputy convener of MQM-P's Rabita Committee, said they wanted Sattar to stay with them.
"But everyone has to follow the party's discipline," he told newsmen here.
Sattar, who had announced the 22-member committee last week to steer the party out of organisational crisis, said he was issued a show-cause notice for demanding democratic right of the workers.
He said that dictatorship of a few individuals prevailed in the MQM-P and there is no democracy within the party.