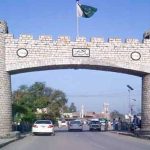 KARACHI: MQM Pakistan chief Dr Farooq Sattar took to task the PPP-led Sindh government on Wednesday, alleging that for the past nine years the provincial government has been involved in loot and plunder.
Addressing a press conference at the Karachi Press Club, Dr Farooq Sattar leveled serious allegations against the provincial government, stating that Sindhis from urban areas have been a target of prejudice.
"The average Sindhi youth has been looted," he said. "While those belonging to the urban areas have been a victim of prejudice," he added.
Dr Farooq Sattar said that Sindh was divided into two based on the quota system. He further alleged that PPP has been mistreating the destitute since 1970.
Farooq Sattar said that PPP government had taken advantage and exploited the Sindhis who used to reside in the province's urban areas. He said that funds had been distributed unjustly in Sindh's cities and districts.
"Karachi provides the provincial government with 85 percent and the center with 65 percent of taxes," he said. "However, Karachi was not given a single takka out of the Rs 70 billion tax revenue," he added.
He said that the entire burden of taxes was on Karachi, Hyderabad, Sukkur and Nawabshah. He blamed all problems of Sindh squarely on the feudal elite.