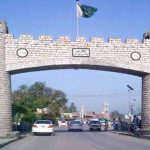 ISLAMABAD: MQM Senator Barrister Mohammad Ali Saif has resigned from the Senate on Thursday.
According to reports, after MQM based leaders demand from MQM Pakistan parliamentarians to resign and seek fresh mandate, Barrister Mohammad Ali Saif resigned from the senate.
Meanwhile, the MQM has denied reports about resignation of Senator Barrister Saif and said that Saif is part of the MQM-Pakistan. The MQM termed twit about Saif resignation as fake.
Earlier an MQM MNA Yousaf also sent resignation to party London secretariat.