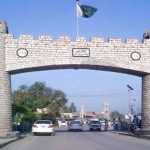 PESHAWAR: Mufti Shahabuddin Popalzai here on Wednesday turned down an invitation to attend a meeting of Central Ruet-e-Hilal Committee for moon sighting of the holy month of Ramazan.
A spokesman for Mfti Popalzai said that neither Popalzai nor any of his representatives would attend the meeting of Central Central Ruet-e-Hilal Committee.
The spokesman further stated that Mufti Popalzai would chair a meeting of Masjid Qasim Khan's committee this evening.
However, he said that Masjid Qasim Khan would dispatch the testimonies to zonal committees regarding sighting of the moon.