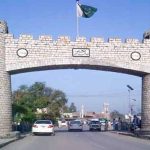 MARDAN: Muhammad Nabi – the key accused of raping and killing four-year old girl Asma in Mardan – has confessed to his crime before court.
The rapist and murderer of Asma, Muhammad Nabi was produced in the court of Senior Civil Judge, where he confessed to his crime.
Muhammad Nabi was arrested 25 days after the dead body of Asma was found in sugarcane fields near her home in Gujjar Garhi area of Mardan.
Muhammad Nabi had been working in a hotel and had thrown Asma's dead body in the fields after raping and killing her.
The arrest came after his DNA was matched with samples taken from Asma's body.