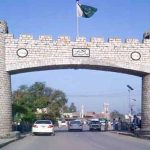 ISLAMABAD: Former Chief Minister Sindh and Pakistan People's Party (PPP) Syed Murad Ali Shah has on Sunday thrashed reports about his dual citizenship.
To this effect, the former Chief Minister took to social media website and shared a picture of the certificate of the renunciation of Canadian citizenship according to what the citizenship has been abandoned since 2013.
He wrote, "For all those who have blindly accepted an outdated list of dual nationals released by FIA, here is my renunciation certificate. Also, I have been cleared by the honourable Supreme Court of all objections previously raised. Sad how things are flashed without proper verification!"
Earlier, on Saturday the Federal Investigation Agency (FIA) handed over a list of candidates holding dual nationalities to the Election Commission of Pakistan (ECP).