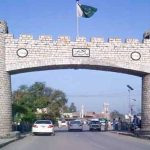 LOWER DIR: The Jamaat-e-Islami (JI) Chief Senator Sirajul Haq said that escalating tensions between Iran, Iraq and the United States is a warning for the World War III.
Addressing a press conference, Sirajul Haq expressed that the Islamic countries should play their part in preventing the WWIII. "However, if the war erupts then it would not stay between the US, Iraq and Iran only", he asserted.
On the other hand, he said that the government neither consulted the opposition parties nor took them in confidence on the amendment in the Army Act.
Meanwhile, JUI-F Senator expressed that the government is burying the people alive by imposing new taxes on them on the request of the International Monetary Fund (IMF). He added that electricity prices will increase by 12 times in few months whereas the medicines' prices will be hiked by 200 per cent with continuous increase in the prices of flour and gas.
He continued saying that the few forces tried to make Imran Khan the "Junayd of Baghdad" – a central figure in the spiritual lineage of many Sufi orders and wanted to prove him "Socrates" – the first moral philosopher of the Western ethical tradition of thought – but he even lacks the simple ability to run a country. "Imran Khan has destroyed all the national institutions.
"The National Accountability Bureau (NAB) has become an institution to extract revenge," he said, adding that the limits of the anti-graft body should be fixed now.